Updated: Dec 10, 2019
What is IP Based KVM?
IP Based KVM sometimes called KVM over IP or KVM over LAN/Ethernet -- is a No-Server remote management technology intended to support user transfer Audio&Video and remote KVM control on a system across a network connection.
IP based KVM turns a single screen into a portal to all computers, none of which need to be in the same physical location as the screen and input device. This allows computers to be moved to another location — be it other rooms, floors or buildings — it really doesn't matter. The key thing is that a user only requires a single keyboard, monitor, and mouse to control any number of remotely located computers.
Safe and stable
There are several environmental advantages associated with IP Based KVM — Removing heat and noise from the workspace being the most critical.
The administrator can control & management systems in any place where they can link to the system, this eliminates time to go to the server room and vastly improves support response times. Consequently, you never worry about the system's global collapse. Allowing preventative maintenance, saving space and increasing flexibility are just a few more.
Unified management of third-party systems
Besides, By incorporating the other systems(Monitoring platform, conferencing system, intelligent control and more) into an IP based KVM system, engineers can add enhanced functionality, scalability and cost savings to their existing workflows.
One-click management
In daily use, ease of use is critical, and this is the value of a system. This is where IP-based KVM technology can help, enabling companies to perform operations such as video switching, remote control of the computer, switching lights, etc., by pressing a button, Even that can customize a series of scenes, such as meeting scene, office scenes, reporting scene, and switching it by a button.
Operational visualization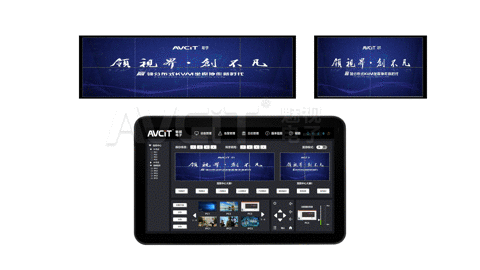 There are many technically excellent systems in a control room to manage different operations. All technologies are user-centric, and users should have a lot of expectations for the connectivity of these systems. If users have to spend time thinking about connectivity, then they don't have time to consider paying for it. High-performance KVM must be absolutely transparent to the user, which helps customers to use different operating systems (such as monitoring platforms, conferencing systems, etc.) more easily, and it must be fast and very intuitive when controlling.
High scalability
Adding a new device is a complicated matter for traditional settings. This requires engineers with proprietary technical knowledge to install additional equipment and to consider the capacity and compatibility of the original system. The IP Based KVM is very different from the traditional settings. Given its system transparency and scalability, this operation is simple and straightforward, and even an ordinary person can easily complete it under the guidance.
Since IP-based KVM is used as the standard transport layer for the entire control system, the control system will be able to enjoy many advantages, including lower cost, scalability, interoperability, and functionality. IP-based KVM, especially high-performance IP-based KVM, is an excellent solution for design control systems and provides an ideal platform for future system expansion.